Needle-Free Therapies
GUA SHA
Release stagnant qi from muscles, halt migraines or expel that early-stage cold.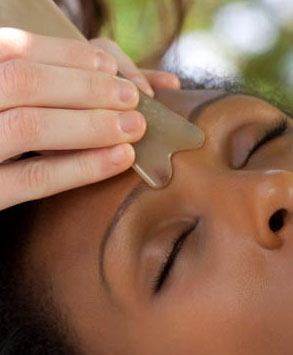 Gua Sha is a technique that releases stagnant blood from muscles and also is employed to help expel a cold in its early stages. The no-needle therapy is often used to relieve tension or pain in the muscles. It is particularly helpful for neck and shoulder aches, migraines and stress headaches. Relief is often instantaneous.
We offer Gua Sha treatment at our Chicago-based clinic. Our experienced practitioner Dana is trained as a Master of Oriental Medicine and will ensure you are in safe hands. Come along and visit us – we're based in the Lincoln Square area, where it meets North Center. Alternatively, contact us to discuss your requirements today.
In addition to acupuncture, Midwest also practice the ancient therapies of cupping and Gua Sha. Book your consultation at our Chicago clinic today and discover how you can benefit from these ancient, natural therapies.